Some years later Meehan was the victim of a miscarriage of justice over the murder of an elderly woman during a housebreaking in Ayr. Even after the actual murderers confessed, it took a book by Ludovick Kennedy to have the case reopened and a Royal Pardon granted.

He died of throat cancer in 1994.

JOHN RAMENSKY 1905 – 1972
(or Ramanauckas or Ramsay)
"Ramensky fits into a pattern of subjects about whom fact merges into legend"
Research Editor - 19th & 20th Centuries Oxford Dictionary of National Biography
Probably the best known safe-blower in this country – not so much for his safe-breaking prowess as for the many and highly publicised escapes which he made from Peterhead Prison – five times altogether between 1934 and 1958.
His parents, who were probably of Lithuanian origin - the family name being Ramanauckas - were married in Poland. His father was a Fire Clay miner to trade and in all probability came into this country among other immigrant labourers brought in from Europe as blackleg labour to break the 10 month old strike at the Glenboig fire clay mine in 1901. John, or Yonas was born four years later at the family home also in Glenboig. He was 8 when his father died and the family moved to the Gorbals district of Glasgow. There he started to get into trouble from the age of 11, eventually finishing up in Borstal for three years. He was released in 1924 but was soon convicted of theft and sentenced to 3 months in prison.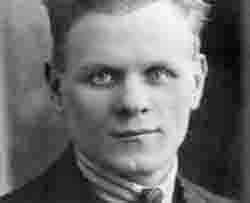 In 1925, age 20, he pled guilty to 16 charges of housebreaking and one of assault. The crimes had been committed over a wide area in Glasgow from Hyndland and Anniesland on the one side of town to Shawlands and Crosshill on the other. He was eventually caught by a housekeeper who returned unexpectedly, and it was on this occasion that he committed the assault by compressing her throat, although the Advocate Depute at his subsequent trial in the High Court stated that 'it was not of a serious character.' His Agent at the previous Sheriff Court hearing stated in mitigation of the thefts that Ramensky had returned stolen War Savings Certificates to their owners 'through the Post Office.'
As it was his first appearance in the High Court, the Judge felt disinclined to pass a heavy sentence on such a young man and stated that he would give him one more chance despite his previous record. He was given 18 months but with the proviso that if he came back to that court he could not hope to escape a long sentence of penal servitude.
Athough for a while he tried to make an honest living as a commission agent, by 1927 he was back in prison for 3 years.
When he married Margaret McManus in October 1931 he had changed his name to John Ramsay. He gave his occupation as a coal miner. and his address as 89 Cathcart Road, Glasgow.
There was then a brief spell running a bookmaking business at the dog racing tracks until, in March 1934, with an accomplice, his brother- in- law Mario Demarco, whom he admitted later in court he had incited to join him, they blew open the safe at John Ledingham & Sons, bakers, in Mount Street Aberdeen, and were subsequently caught by a prompt police response when they were caught on the Glasgow bound train at Perth Station. A heel mark from Demarco's shoe in the soot of a fireplace, and a torn piece of a 10/- note in Ramensky's pocket which matched the remainder of the note found on the baker's premises ensured their conviction. Amount stolen - £246. Sentence, 5 years.The press reports of the trial now refer to him as John Ramensky.
It was during this spell in Peterhead that Ramensky made his first escape on the 4th November 1934. Although it is usually reported that this breakout was because he had been refused permission to attend his wife Margaret Ramsay's funeral, and that his sense of outrage had prompted this action, this cannot be correct as she did not die until October 1937 - three years later. His description as issued at the time was :- 30 years of age, 5 feet 5 inches in height, light brown hair, blue eyes, fresh complexion, flat nose, and in prison garb. He was caught the following day at 10.35, having been free for 28 hours, and having travelled 22 miles. He was wet and bedraggled and without cap, jacket, or boots! His only food had been turnip from a field. He was taken to the hospital in Craiginches Prison in Aberdeen for treatment to his feet.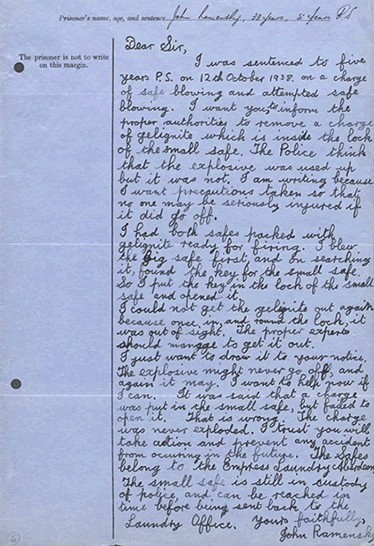 Despite having broken out of prison, his term must have been reduced, for less then 4 years later on the 9th or 10th of July 1938 he blew open the safe in the Empress Laundry, Seaforth Road, Aberdeen, and from which he stole £180:2:11., plus £105:14s from a second safe that he was about to blow when he discovered the key for it in the first safe. Once again forensic evidence convicted him. It was a landmark case for the scientist in that having obtained traces of sawdust (component of the fire-resisting filling of safes) from the turn-ups of his trousers, they matched it exactly with samples taken from the safe. While this might not always be 100% accurate in other cases as different safes might contain similar sawdust, in this case there was an unusual fungal infection in the wood that limited it to this one safe. To illustrate how prolific a cracksman he was, notes taken at the time suggest that there could well be traces of ballast or proofing on his clothing from other safes as well, since he was believed to have been involved in safe-blowings in Manchester, Clydebank, and various other places since his release from prison 2 months previously. Of course this was not the only evidence on which he was convicted. As in the previous case a small scrap of paper found on Ramensky matched the other part of an envelope on the premises. This scrap had been used as a page marker in a Murray's A.B.C. railway timetable for the service on which he was arrested making his return to Glasgow. At this time he had been living with his sister in Rutherglen but was soon to be a guest of His Majesty again for 5 years penal servitude*.
The above letter - with acknowledgement to the National Archives of Scotland - was written from prison after the above crime to warn the authorities of the undetonated charge within the second safe. It might have been more to his credit however if he had not waited for three months before actually making anyone aware of the fact.

*
NOTE: Penal servitude was hard labour under different conditions from ordinary imprisonment. It had been substituted for deportation in 1853, and abolished in 1948. At Peterhead Prison the hard labour involved breaking and transporting granite at the Stirling Hill Quarry.
It was said in the newspapers of the time that that good-conduct marks would earn him privileges. From a cell with dark windows he could move to a cell with clear windows through which he could see the exercise yard, and then, to the highest honour – a cell overlooking the sea. This does not sit well with the following excerpt from the Scotsman in December 1934.
SHACKLES IN PETERHEAD PRISON
Mr McGovern (I.L.P., Shettleston) asked the Secretary of State for Scotland if his attention had been drawn to the form of punishment being meted out to John Ramensky at Peterhead Prison for jail-breaking, where shackles where shackles were placed on his legs whilst undergoing solitary confinement, and if he was prepared to put an end to this practice. It was agreed in Dec.1934 that this method of restraint should not in future be used in any Scottish prison.
On the 2nd of September 1939, the day before war was declared, Ramensky petitioned to serve in the army following the outbreak of war, and on the 14th of December in 1941, again petitioned to have his licence reviewed in order that he could serve his country. Both were rejected.
In August 1942 another petition but this time so that he could alter his name to John Ramsay to enable him to make a fresh start when he joins the army on release. The records show that he was discharged from Peterhead Prison on the 8th of October 1942 with a new Identity Card issued in the name John Ramsay.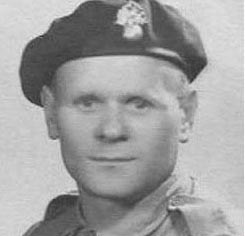 He enlisted as John Ramsay into the Royal Fusiliers in January 1943. It is known that he was employed as an instructor in methods of burglary and safe-blowing at the training school for the SOE at Beaulieu (despite his heavy Glasgow accent making him almost unintelligible). He subsequently attended the commando training establishment at Achnacarry but it is uncertain whether it was in the capacity of instructor or as a commando trainee. Records show that in 1944 he was a member of 30 Commando (AU) Section 34 (army troop).There are many and various unsubstantiated stories of him having been parachuted behind enemy lines to 'blow up infrastructure and steal important documents' including having blown open 14 embassy safes in Rome in one day during the occupation. Underlying the latter story will be a thread of truth as the main function of 30 Commando was the acquisition of intelligence ahead of advancing forces.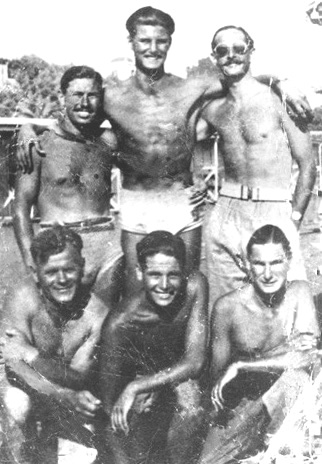 The attached photograph - by courtesy of 30AU - shows Private Ramsay (lower left) and comrades which appears to have been taken in North West Italy around the time of the German surrender at the beginning of May 1945.
The 34 Wing returned to the UK in the August of that year when Ramsay transferred to 6 Commando, and which in February 1946 was sent to operate with the BAOR on mainland Europe. Unlike the intelligence gathering function of the 30AU, the 6 Commando were engaged in searching for German personnal wanted for questioning regarding war crimes and also in assisting restore law and order in the immediate aftermath of the war.
By the end of hostilites in Europe in May 1945, the 6 Commando had advanced with the main forces as far as Neustadt on the Baltic where the Allied occupation ended and the Soviet began.
It has been variously stated that he was awarded the Military Medal and given a free pardon, but as his sentence had been fulfilled by 1942, both claims are inaccurate. It now seems more probable that he was given a military medal. This would have been the War Medal as awarded to full time personnel in the armed forces who had served during hostilities.
It has also been claimed many times that he learned how to use of explosives from his brief experience as a miner, but as this is in the domain of the shotfirer, not the miner, this is also inaccurate. There is much more truth in the report that he learned the basics of safe-blowing from Scotch Jimmy while in Peterhead.
The Ramensky legend is carried in countless websites and newspaper features. The great historian Alan Taylor made the point that 'History does not repeat itself, historians repeat each other' as in this case where a researcher has published a version of events which is not quite correct, and that version has then been copied by other resarchers as being their own work and so the myths are perpetuated. See FOOTNOTE - 1